PROSCRIPTIX|FX® PRO.PIL FX Daily Nutra Boost
$46.00
PROSCRIPTIX|FX® PRO.PIL FX, is a daily supplement professionally formulated to nourish hair from the inside out.
PRO.PIL FX, is a daily supplementprofessionally formulated to nourish hair from the inside out. With medical-grade ingredients emerging from the latest hair and scalp research, PRO.PIL FX targets the many underlying causes of compromised hairfolliculefunction.
The hair, scalp, hair follicle and root all benefit from this powerful proprietary complex, not only propelling hair growth, but also boosting strength, texture, shine, density, and softness. Use PRO.PIL FX to get to the root of your hair and scalp problems and start seeing the hair you've always dreamed of!
Key Benefits
Promotes healthier, thicker, more manageable hair
Supports longer, stronger and new hair growth
Minimizes excessive shedding
Nourishes damaged / shrinking hair follicles
Free of gluten, artificial flavors, soy, lactose, starch and carbohydrates
Effective for all hair types
Directions: Take one capsule 3 times daily with 8 oz of water. Includes 90 capsules for a full 30-day supply.
100% or more Daily Value for Vitamins A, B-6, and B-12
Over 100% Daily Value for Zinc
100% Daily Value for Folate
Also includes Thiamin, Calcium, Iron, Iodine and many more contributing ingredients
PRO.PIL FX Daily Nutra Boost has 300 mcg (0.3mg) of Biotin and is within the appropriate guidelines to avoid immunoassay interference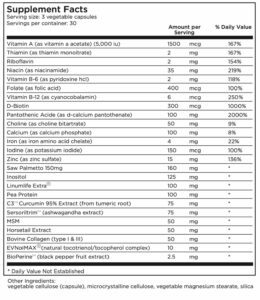 Share your thoughts!
Let us know what you think...
Only logged in customers who have purchased this product may leave a review. Log in now